Indigenous Education
Land and People Acknowledgement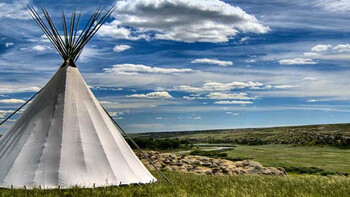 We acknowledge with respect the history and culture of the peoples with whom Treaty 6 was signed and the land upon which Elk Island Public Schools reside. We also acknowledge the traditional homeland of the Métis Nation.
We recognize our responsibility as Treaty members and honor the heritage and gifts of the First Peoples.
We commit to moving forward in partnership with Indigenous communities in a spirit of collaboration and reconciliation. Click here to learn more.
The Seven Teachings and Red River Cart Teachings
Last year, our school learned about the Seven Teachings. This year, we will continue to learn and play using these teachings as our guide. We are happy to also be learning from the Métis Red River Cart Teachings as well. The Red River Cart teachings use the wheel of a Red River Cart to show us how different character values are linked together.  You can see the Seven Teachings in Cree and the Red River Cart Teachings in Michif below.
September's Seven Teaching:
Humility/ᑕᐸᐦᑌᔨᒥᓱᐃᐧᐣ tapahtêyimisowin
Live selflessly, be humble
The wolf shows us how to be humble. The wolf always puts his pack before himself, and bows his head to show respect to others. This month, we will be working on showing humility at Mills Haven.
September's Red River Cart Teachings:
Creator /Kichi manito (ki-chi mani-to)
Show daily your appreciation for the Creator's gifts
Sharing/Pahkwenumawewin (pahkwe-num-awew-in)
Share your gifts with others. Share from the heart. When you share with others, it comes back to you. Sharing isn't only for material things. 
Just like how the wolf thinks of his pack before himself, we can give of ourselves to those around us. Not only can we give material objects like gifts or donations, we can also give our time, respect, attention, and friendship to those around us. We can recognize all of the wonderful gifts we have, and use them to better the community around us.
Orange Shirt Day, September 30
Orange Shirt Day is at the end of September. Orange Shirt Day commemorates survivors and those lost to the residential school system. We wear orange shirts on this day to show our support for survivors and to send the message that every child matters. Please wear your orange shirt on September 30!
For more information please visit: http://www.orangeshirtday.org/