Indigenous Education
Land and People Acknowledgement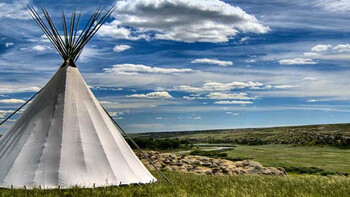 We acknowledge with respect the history and culture of the peoples with whom Treaty 6 was signed and the land upon which Elk Island Public Schools reside. We also acknowledge the traditional homeland of the Métis Nation.
We recognize our responsibility as Treaty members and honor the heritage and gifts of the First Peoples.
We commit to moving forward in partnership with Indigenous communities in a spirit of collaboration and reconciliation. Click here to learn more.
Moose Hide Month
In February, Mills Haven school will be learning about the Moose Hide Campaign.
Children at Mills Haven are being given an opportunity to explore our diversity, emotions and positive conflict resolution through lessons based on this program.  
The Moose Hide Campaign started as a movement of Indigenous and non-Indigenous men and boys, standing up against violence towards women and children. The Moose Hide Campaign has since spread to people of all genders. At Mills Haven we will be discussing how to make our school and community a safe space for all people. Some of the topics included in our conversation are as follows:
Strategies for understanding and appreciating our differences
Ways to address our emotions in a healthy way
Safe and healthy conflict resolution strategies
Check out our booth at Student Led Conferences on Feb. 11-12 and take the Moose Hide Pledge with your family to stand up against violence!
A special thank you to the many parents who are curious alongside us and seek to better understand our shared history so we can move forward together as a community and as a nation in a good way.
Have a Heart Day Loose Change Drive Feb.10-13
February 14th is Have a Heart Day across Canada. 
Have a Heart Day is a child and youth-led reconciliation event that brings together caring Canadians to help ensure First Nations children have the services they need to grow up safely at home, get a good education, be healthy, and be proud of who they are.   (https://fncaringsociety.com/have-a-heart).
Mills Haven will be honoring Have a Heart Day by helping sick kids in our own backyard. In the week of Feb. 10, Mills Haven will be collecting loose change to provide to the Edmonton Ronald McDonald House. Please check out the below information about the great work done in our community by the Ronald McDonald House:
"Ronald McDonald House Charities® Alberta supports families seeking vital medical treatment for their seriously ill or injured child. Our warm, compassionate Houses provide a home-away-from-home for families who need to travel for medical reasons. When those families are experiencing one of life's most difficult times – we offer them the gift of togetherness." (https://rmhcalberta.org/about/)
Our loose change donations will be going towards providing nutritious, ready-made meals for the families at the Ronald McDonald House. The hope is that we can continue to fuel the minds and hearts of these families who are fighting to keep their families healthy and together.
Please donate to our Have a Heart Day charity! 
The Seven Teachings and Red River Cart Teachings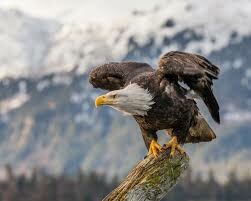 Last year, our school learned about the Seven Teachings. This year, we will continue to learn and play using these teachings as our guide. We are happy to also be learning from the Métis Red River Cart Teachings as well. The Red River Cart teachings use the wheel of a Red River Cart to show us how different character values are linked together.  You can see the Seven Teachings in Cree and the Red River Cart Teachings in Michif below.
February's Seven Teaching:
 Love- find peace within yourself ᓴᑭᐦᐃᐁᐧᐃᐧᐣ sakihiwewin
February's Red River Cart Teachings:
Love/Sakihitowin (sa-ki-hi-to-win)
Have an open, loving heart
A healthy community is created with love for yourself,  family, community, nation and for all of creation
Old ones teach grandchildren how to live in a good way; know who they are and where they come from
 

Caring/Kanaweyihtamowin (kana-we-yih-tam-owin)



Caring for yourself and others is expected
Hunters provide for the family and the Old Ones
Children are expected to spend time with Old Ones and help with tasks
Kindness/Kise watisiwin (ki-se wa-tis-iwin)
All aspects of kindness are acknowledges, supported and celebrated
Be kind to strangers and always give the best hospitality
Be kind to all members of creation
March's Seven Teaching:
Wisdom - use your gifts; teach ᐃᔨᓂᓱᐃᐧᐣ iyinisowin
March's Red River Cart Teaching:
Tolerance/Sahsepeyihtamowin (sahse-pe-yih-ta-mo-win)

Be non-judgmental to others
Debate and discuss in a good way
Meet Earth Bear!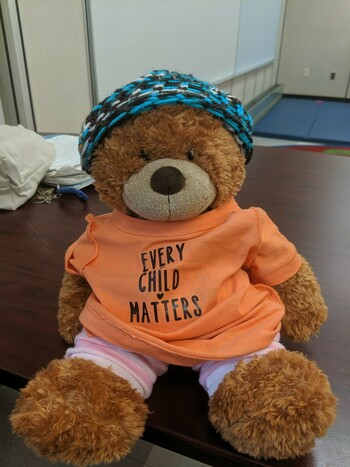 Our Mills Haven Spirit Bear has been making the rounds at Mills Haven Elementary! A Spirit Bear comes to a school to learn about his treaty area (our treaty area is Treaty 6) and teach students about reconciliation. Our bear has been part of Orange Shirt Day, our lessons with the Giant Floor Map of Canada, and many other lessons with Elder Wilson!
Spirit Bear has done so much work that it is time for him to receive his proper name. On December 2nd we had an assembly where Elder Wilson led a naming ceremony for our bear. Classes submitted possible names for the bear, and Elder Wilson considered them and picked a suitable name. Earth Bear was the winner! 
Check out this news article about Earth Bear: https://www.sherwoodparknews.com/news/local-news/mills-haven-honours-spirit-of-reconciliation 
Be sure to check out Spirit Bear's adventures on Twitter! His handle is @BearMHV.