Indigenous Education
Land and People Acknowledgement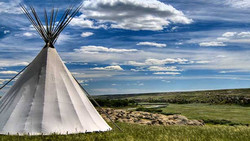 We acknowledge with respect the history and culture of the peoples with whom Treaty 6 was signed and the land upon which Elk Island Public Schools reside. We also acknowledge the traditional homeland of the Métis Nation.
We recognize our responsibility as Treaty members and honor the heritage and gifts of the First Peoples.
We commit to moving forward in partnership with Indigenous communities in a spirit of collaboration and reconciliation. Click here to learn more.
The Seven Teachings and Red River Cart Teachings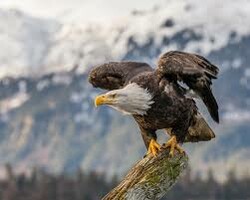 Last year, our school learned about the Seven Teachings. This year, we will continue to learn and play using these teachings as our guide. We are happy to also be learning from the Métis Red River Cart Teachings as well. The Red River Cart teachings use the wheel of a Red River Cart to show us how different character values are linked together.  You can see the Seven Teachings in Cree and the Red River Cart Teachings in Michif below.
Meet Earth Bear!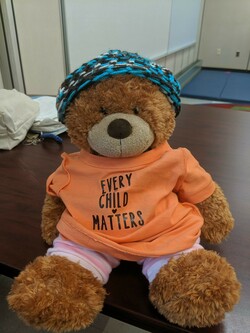 Our Mills Haven Spirit Bear has been making the rounds at Mills Haven Elementary! A Spirit Bear comes to a school to learn about his treaty area (our treaty area is Treaty 6) and teach students about reconciliation. Our bear has been part of Orange Shirt Day, our lessons with the Giant Floor Map of Canada, and many other lessons with Elder Wilson!
Spirit Bear has done so much work that it was time for him to receive his proper name in December 2019. We had an assembly where Elder Wilson led a naming ceremony for our bear. Classes submitted possible names for the bear, and Elder Wilson considered them and picked a suitable name. Earth Bear was the winner! 
Check out this news article about Earth Bear: https://www.sherwoodparknews.com/news/local-news/mills-haven-honours-spirit-of-reconciliation 
Be sure to check out Spirit Bear's adventures on Twitter! His handle is @BearMHV.