Indigenous Education
Land and People Acknowledgement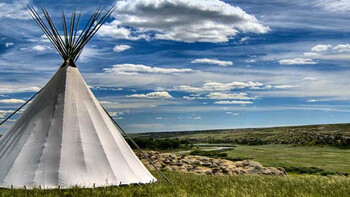 We acknowledge with respect the history and culture of the peoples with whom Treaty 6 was signed and the land upon which Elk Island Public Schools reside. We also acknowledge the traditional homeland of the Métis Nation.
We recognize our responsibility as Treaty members and honor the heritage and gifts of the First Peoples.
We commit to moving forward in partnership with Indigenous communities in a spirit of collaboration and reconciliation. Click here to learn more.
Character Education and the Seven Teachings at Mills Haven
In 2018-2019 our school focused on Character Education through an Indigenous lens. Our students used the Seven Teachings to practice important traits such as Respect, Courage, Wisdom, Humility, Honesty, Love and Truth. These teachings are of great importance and are taught in many different Indigenous cultures, and we can find ways to practice these traits in all aspects of our lives.
How can you use all the wisdom you've learned this year in order to help yourself, your loved ones and the environment? Look for ways and report back to your teachers so we can continue to make Mills Haven A Great Place to Be!
Check out this list to see what we've accomplished this year in our Indigenous Education program!
Daily announcements about the Seven Teachings
Monthly lessons provided to teachers to help teach the Seven Teachings
Monthly assemblies about the Seven Teachings
All classes except for kindergarten (due to the different scheduling of kindergarten) have met with Elder Wilson at least once to learn about either the Seven Teachings or Jordan's Principle
All classes participated in Orange Shirt Day
Most classes participated in our Seven Teachings food drive which raised over 1200 lbs of food
Some classes did Have a Heart Day/learned about Jordan's Principle
Eight classes will be participating in the Honoring Memories, Planting Dreams garden in May in memory of residential school survivors and Shannon Koostachin's dream that all kids deserve a safe and comfy school
All grade six students learned about the history and legacy of residential schools using the Secret Path and the ATA History and Legacy of Residential Schools workshop
All grade five students participated in a blanket exercise
Staff has received regular professional development at staff meetings
Mrs. Choo and EIPS consultant Cheryl Devin led a professional development for staff 
Some staff have worked together with Mrs. Choo to create lessons linked to the curriculum
Some classes have accessed EIPS consultant Cheryl Devin to learn about Metis culture
Mrs. Choo's class will be attending the book launch for Cindy Blackstock's new book due to our participation in Have a Heart Day
We will be celebrating National Indigenous People's Day in June
Classes have had access on a monthly basis to edu-kits that provide resources and hands on activities to learn about First Nations, Metis and Inuit ways of knowing
Check out our news release about our awesome food drive! We collected over 1200 lbs of food from our Mills Haven Community. Wow, way to go Mills Haven! https://www.eips.ca/about-us/whats-new/post/students-from-mills-haven-elementary-learn-valuable-lessons-about-the-power-of-giving
*Thank you to Mrs. Richard at Westboro school for her help with this project.